Adalat (Nifedipine)
Commercial Name: Adalat
Active Ingredient: Nifedipine
Production form: Pills
Utilization: Treats blood vessels
Available Dosage: 20mg
Uses
This medication is used to prevent certain types of chest pain (angina). It may allow you to exercise more and decrease the frequency of angina attacks. Nifedipine belongs to a class of medications known as calcium channel blockers. It works by relaxing blood vessels so blood can flow more easily. This medication must be taken regularly to be effective. It should not be used to treat attacks of chest pain when they occur. Use other medications (such as sublingual nitroglycerin) to relieve attacks of chest pain as directed by your doctor. Consult your doctor or pharmacist for details.
Older adults should discuss the risks and benefits of this medication with their doctor or pharmacist, as well as other possibly safer forms of nifedipine (such as the long-acting tablets).
How to use Adalat (Nifedipine)
Take this medication by mouth, usually 3 times daily with or without food or as directed by your doctor. Swallow this medication whole. Do not crush, chew, or break the capsule.
The dosage is based on your medical condition and response to treatment. Your doctor may gradually increase your dose. Follow your doctor's instructions carefully.
Avoid eating grapefruit or drinking grapefruit juice while taking this medication unless your doctor instructs you otherwise. Grapefruit can increase the amount of certain medications in your bloodstream. Consult your doctor or pharmacist for more details.
Use this medication regularly to get the most benefit from it. To help you remember, take it at the same times each day.
Tell your doctor if your condition worsens (for example, your chest pain worsens or is more frequent).
Adalat (Nifedipine) Side Effects
Dizziness, flushing, weakness, swelling ankles/feet, constipation, and headache may occur. If any of these effects persist or worsen, tell your doctor or pharmacist promptly.
To reduce dizziness and lightheadedness, get up slowly when rising from a sitting or lying position.
Remember that your doctor has prescribed this medication because he or she has judged that the benefit to you is greater than the risk of side effects. Many people using this medication do not have serious side effects.
Tell your doctor right away if any of these unlikely but serious side effects occur: fast/irregular/pounding heartbeat, fainting.
Tell your doctor right away if any of these rare but very serious side effects occur: vision changes.
Although this medication is effective in preventing chest pain (angina), some people who already have severe heart disease may rarely develop worsening chest pain or a heart attack after starting this medication or increasing the dose. Get medical help right away if you experience: worsening chest pain, symptoms of a heart attack (such as chest/jaw/left arm pain, shortness of breath, unusual sweating).
A very serious allergic reaction to this drug is rare. However, seek immediate medical attention if you notice any symptoms of a serious allergic reaction, including: rash, itching/swelling (especially of the face/tongue/throat), severe dizziness, trouble breathing.
This is not a complete list of possible side effects. If you notice other effects not listed above, contact your doctor or pharmacist.
Precautions
Before taking this medication, tell your doctor or pharmacist if you are allergic to it; or if you have any other allergies. This product may contain inactive ingredients, which can cause allergic reactions or other problems. Talk to your pharmacist for more details.
This medication should not be used if you have a certain medical condition. Before using this medicine, consult your doctor or pharmacist if you have: certain heart problems (such as congestive heart failure, aortic stenosis).
Before using this medication, tell your doctor or pharmacist your medical history, especially of: liver problems, kidney problems.
Before having surgery, tell your doctor or dentist that you are taking this medication.
This drug may make you dizzy. Alcohol or marijuana (cannabis) can make you more dizzy. Do not drive, use machinery, or do anything that needs alertness until you can do it safely. Limit alcoholic beverages. Talk to your doctor if you are using marijuana (cannabis).
Older adults may be more sensitive to the side effects of this drug, especially dizziness, constipation, or swelling ankles/feet.
During pregnancy, this medication should be used only when clearly needed. Discuss the risks and benefits with your doctor.
This medication passes into breast milk. Consult your doctor before breast-feeding.
Interactions
Drug interactions may change how your medications work or increase your risk for serious side effects. This document does not contain all possible drug interactions. Keep a list of all the products you use (including prescription/nonprescription drugs and herbal products) and share it with your doctor and pharmacist. Do not start, stop, or change the dosage of any medicines without your doctor's approval.
Other medications can affect the removal of nifedipine from your body, which may affect how nifedipine works. Examples include apalutamide, cimetidine, enzalutamide, mitotane, quinupristin/dalfopristin, St. John's wort, rifamycins (such as rifabutin, rifampin), drugs used to treat seizures (such as carbamazepine, phenytoin), among others.
Some products have ingredients that could raise your heart rate or worsen your chest pain. Tell your pharmacist what products you are using, and ask how to use them safely (especially cough-and-cold products, diet aids, or NSAIDs such as ibuprofen/naproxen).
Cimetidine is a nonprescription drug that is commonly used to treat extra stomach acid. Because cimetidine may interact with nifedipine, ask your pharmacist about other products to treat extra stomach acid.
Overdose
If someone has overdosed and has serious symptoms such as passing out or trouble breathing, call 911. Otherwise, call a poison control center right away. US residents can call their local poison control center at 1-800-222-1222. Canada residents can call a provincial poison control center.
Notes
Do not share this medication with others.
Laboratory and/or medical tests (such as blood pressure, liver/kidney tests, electrocardiogram) may be performed from time to time to monitor your progress or check for side effects. Consult your doctor for more details.
Missed Dose
If you miss a dose, take it as soon as you remember. If it is near the time of the next dose, skip the missed dose. Take your next dose at the regular time. Do not double the dose to catch up.
Storage
Store at room temperature between 59-77 degrees F (15-25 degrees C) away from light and moisture. Do not store in the bathroom. Keep all medicines away from children and pets.
Do not flush medications down the toilet or pour them into a drain unless instructed to do so. Properly discard this product when it is expired or no longer needed. Consult your pharmacist or local waste disposal company for more details about how to safely discard your product.Information last revised November 2019.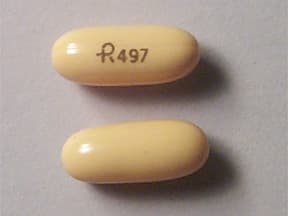 Nifedipine 10 Mg Capsule
---
Color

yellow

Shape

oblong

Imprint

logo and 497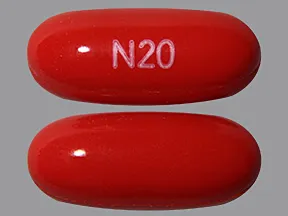 Nifedipine 20 Mg Capsule
---
Color

red

Shape

oblong

Imprint

N20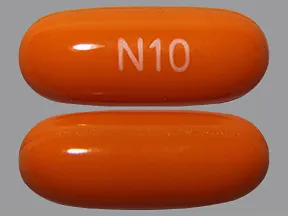 Nifedipine 10 Mg Capsule
---
Color

orange

Shape

oblong

Imprint

N10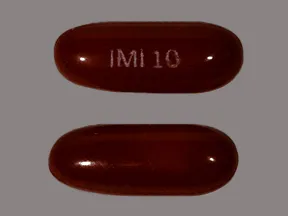 Nifedipine 10 Mg Capsule
---
Color

reddish-brown

Shape

oblong

Imprint

IMI 10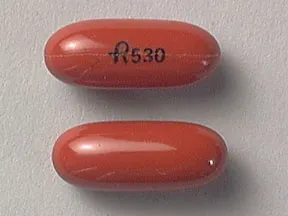 Nifedipine 20 Mg Capsule
---
Color

red brown

Shape

oblong

Imprint

logo and 530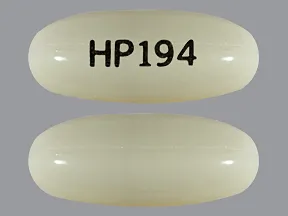 Nifedipine 10 Mg Capsule
---
Color

white

Shape

oblong

Imprint

HP 194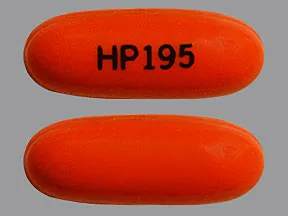 Nifedipine 20 Mg Capsule
---
Color

peach

Shape

oblong

Imprint

HP 195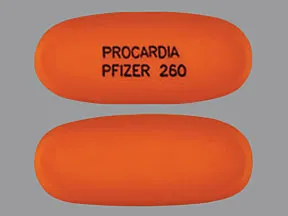 Nifedipine 10 Mg Capsule
---
Color

orange

Shape

oblong

Imprint

PROCARDIA PFIZER 260
Description
Common use
        The medication belongs to a class of drugs called calcium channel blockers and decreases trans-membrane calcium ion flux through calcium channels to the myocardiocytes and cells of smooth muscles of coronary and peripheral vessels and arteries. Adalat widens coronary arteries on coronary spasm besides it influences unchangeable vessel segments in spots of their partial stenosis. The medicine prevents coronaspasm by decreasing tonus of smooth muscles of coronary arteries. Adalat increases coronary perfusion and improves the supply of microcard by oxygen. Thus the medicine facilitates pumping of blood for a heart and reduces its workload. Adalat is used at hypertension (high blood pressure) and to treat angina.
Dosage and direction
        The common dose for Adalat capsules is 10 to 20 mg three times daily. It is important to swallow capsules whole. Extended-release tablets should be taken one time a day and the usual daily dose is 30 or 60 mg. On the necessity, the daily dose can be increased up to 120 mg. The tablets should be swallowed whole, do not beat or cut them in half. Adalat can be taken together with food as well. For rapid relief of hypertensive crisis symptoms, a single dose of the medicine is 10 mg, if necessary in 30 minutes one more capsule should be taken.
Precautions
        Adalat is in the FDA pregnancy category C, which means it is not known for causing damage to an unborn baby. If your age exceeds 65 years, side effects from Adalat are more likely to appear, so consult your doctor who may prescribe your a lower dose of it. Avoid eating grapefruit or drinking grapefruit juice while taking this medication, the fruit is known by its ability to increase the number of certain medications in your bloodstream.
Contraindications
        Please consult a doctor before taking this medicine in case of allergy to Adalat, pregnancy or breast-feeding, state of a cardiogenic shock, simultaneous intake with Rifampicin, acute form of hypotension, presence of ileostomy after proctocolectomy; age under 18 y.o. (effectiveness and safety are not determined). The medicine is used carefully in case of cardiac insufficiency, severe aortic stenosis, subaortic stenosis, acute myocardial infarction with left ventricular failure, acute form of bradycardia, hepatic failure, severe cerebrovascular disorders, light and moderate arterial hypotension, stenosis of any gastrointestinal tract segment, advanced age, malignant arterial hypertension and hypovolaemia treated by hemodialysis.
Possible side effect
        If any of the following severe adverse reactions occur, stop taking Adalat and contact your doctor or seek emergency medical help: allergy, unusually fast or slow heartbeats, severe dizziness or fainting, psychosis, jaundice, oedema of the legs or ankles. Less serious adverse reactions are possible and more likely to happen if so do not stop taking Adalat but talk to your doctor: headache, fatigue, or tiredness, flushing, insomnia, vivid or abnormal dreams, nausea or constipation or increased urination. These effects may worsen if Adalat is taken with alcohol.
Drug interaction
        In rare cases, congestive heart failure was noticed to be associated with Adalat, usually in patients already on a beta-blocker: propranolol (Inderal), metoprolol (Lopressor), etc. Hypotension on treatment by Adalat can occur, especially in patients already taking another blood pressure-lowering drug. Nifedipine decreases the elimination of digoxin (Lanoxin) by the kidneys which increases digoxin toxicity.
Missed dose
        Never take a double dose of this medication. If it is almost time of the next dose just skip the missed portion and continue to take the medicine according to the schedule.
Overdose
        If overdose is supposed the condition requires emergency medical attention. Overdose of the medicine may include dizziness, weakness, chest pain, the difficulty I breathing, fainting, an unusually fast or slow heartbeat, coma, slurred speech, and confusion.
Storage
        Tablets should be stored at temperature 15-25 C (59-77 F). They should be protected from light, moisture, and humidity.
Buy Adalat (Nifedipine) | 100% good quality | Buy Adalat (Nifedipine) | 100% good quality | Buy Adalat (Nifedipine) | 100% good quality
Buy Adalat (Nifedipine) | 100% good quality | Buy Adalat (Nifedipine) | 100% good quality | Buy Adalat (Nifedipine) | 100% good quality
Buy Adalat (Nifedipine) | 100% good quality | Buy Adalat (Nifedipine) | 100% good quality | Buy Adalat (Nifedipine) | 100% good quality
Buy Adalat (Nifedipine) | 100% good quality | Buy Adalat (Nifedipine) | 100% good quality | Buy Adalat (Nifedipine) | 100% good quality
Buy Adalat (Nifedipine) | 100% good quality | Buy Adalat (Nifedipine) | 100% good quality | Buy Adalat (Nifedipine) | 100% good quality
Buy Adalat (Nifedipine) | 100% good quality | Buy Adalat (Nifedipine) | 100% good quality | Buy Adalat (Nifedipine) | 100% good quality
Buy Adalat (Nifedipine) | 100% good quality | Buy Adalat (Nifedipine) | 100% good quality | Buy Adalat (Nifedipine) | 100% good quality